Kanika as a teacher strongly believe in these words by – William Arthur Ward.
"The mediocre teacher tells. The good teacher explains. The superior teacher demonstrates. The great teacher inspires."
Kanika Chanda Makeup Academy is one of the world's best makeup academy in Gurgaon which uses her phenomenal teaching skills to bring out the artist in you. The objective of the academy is to provide the world's best knowledge and training at a very affordable price. Our aim is to provide you a valuable and creative learning experience that will help you to grow into a professional makeup artist. This is our hearty wish that each Student who joins our academy turns into a self-efficient and successful makeup professional in their respective carriers by learning the latest trends of the beauty industry.
WHY CHOOSE KANIKA'S MAKEUP ACADEMY:
• Diminutive Class without any horde.
• You will get individual attention in a professional environment.
• Comfortable working stations for each Student.
• Portfolio Shoot – This will help the students to start their carrier immediately after the course.
• Products Availability – Products are available in the studio for practice.
(Students have to bring their own Makeup Brushes, Beauty Blenders, Wet tissue daily in class for practice)
• Affordable stay in a facility in same the studio building available for outstation students.
• Portfolio Models are available for demonstration of your work and Shoot.
• Bridal Outfits.
• Bridal Jewellery.
• Our studio is at Prime Location in the city.
BEYOND TRAINING:
We are more than a Makeup School, we build and maintains a lifelong relationship with the students and are available there for any kind of help or support students require even after the course gets over. We make sure every communication you have with the makeup academy /us during the course or after the course is a memorable one for you.
"Creativity is your best makeup skill, don't be afraid to experiment."- Pat McGrath
Kanika believes in Science and Creativity both. Creativity can be put to your best use if your science is clear. By following your passion and dedication and with the help of Kanika bring out the best in you and make your mark in the blooming Makeup Industry.
In this course, you will be trained in a range of creative applications and techniques to create current looks linking directly to trends.
THE COURSE CONTENT:
• Makeup Artist Hygiene
• Makeup Tools (Brushes/Equipment)
• Different skin types and issues
• Foundation application and selection
• Role of Color Wheel/Concealers
• Contouring and Highlighting
• Powders (loose/pressed)
• Bronzers
• Blusher (powder/cream)
• Eyebrows and Eyes Shapes
• Eyeliners (liquid/gel)
• Eye-shadows (Liquid/Powder/Glitter/Pressed/Cream/Pigment)
• Mascara and its application
• False Lashes Application
• Lipsticks /Lip-liners/Lip gloss
• Secrets of glowing skin
• Hand/Body
MATURE SKIN:
• Learn makeup application on mature skin. Mature skin has different characteristics and needs special care. Professional makeup artist Furnish their client's age, they know when to accustom products and technique for mature skin,
• Endeavor for naturally flawless appearance rather than excessive glamour.
DIFFERENT EYE MAKEUP TECHNIQUES:
• Soft look with neutrals and its variations.
• Soft smoky and its variations.
• Intense Smoky and its variations.
•  Outer Smoky (soft, intense) and its variations.
•  Half cut crease and its variations.
•  Full cut crease (Arabic) and its variations.
•  Halo soft blended look.
•  Halo Cut Crease and its variations.
With these looks you can comfortably create a variety of eye looks for- Party, Engagement, Cocktail, Mehndi, Sagan, Wedding day and night look, Ramp, etc.
PRODUCTS, STUDENTS WILL WORK WITH:
FACE (Foundations):
•  Makeup Forever
•  Huda Beauty
•  Fenty Beauty
•  Kat Von D Beauty
•  MAC
•  MAC Studio Fix
•  MAC Face and Body
•  Kryolan
•  Illamasqua
EYES:
•  Pigments
•  Matte eye shadows
•  Shimmer eye shadows
•  Pressed eye shadows
•  Liquid Glitters
•  Dry Glitters
•  Liquid eye shadows
•  Cream eye shadows
THEORY CLASS
KNOWLEDGE OF TOOLS, HYGIENE:
• You will learn about tools, brushes, Equipment used during good makeup.
• Understanding the importance of professional standards of artist hygiene.
STEPS OF MAKEUP :
• Learn makeup application in the right steps.
COMPREHENSIVE KNOWLEDGE ABOUT SKIN TYPES:
• DRY SKIN
• OILY SKIN
• COMBINATION SKIN
• SENSITIVE SKIN TYPES
SKIN ISSUES:
• OPEN PORES
• PIGMENTATION
• PUFFINESS
• DARK CIRCLES
• ROSACEA AND SO ON.
FOUNDATION:
• Foundation selection and application according to skin type and undertone, mixing, and application techniques based on coverage and texture level.
COLOR CORRECTION:
• Role of a color wheel and its application in color correction and camouflaging imperfections with the help of concealers.
FACE SHAPES:
• Learn about different face shapes and roles of CONTOURING & HIGHLIGHTING in face structuring.
EYES:
• In our makeup academy, students will learn about different eye shapes and placements, and work with the correct eye makeup techniques for different eye shapes.
• Learn all the right makeup techniques for ROUND EYES, PROTUDED EYES, WIDE SET EYES, DEEP SET EYES, CLOSE SET EYES, HOODED EYES, ALMOND EYES.
• Learn how to use different types of Eyeliners and Kohls according to eye shapes.
PRACTICAL & DEMO CLASSES:
• Basic of Foundation applying and Base and one Simple quick Eye makeup.
• After Demonstration, students will practice these looks at each other and will have their first hands on Experience.
HOW TO BUILD YOUR PROFESSIONAL MAKEUP KIT:
• Students will be given knowledge about products for making their kit according to their appropriate budget.
• Learn about Drugstore and High-end Makeup Products.
• Kanika will teach you second, eye makeup look that is SOFT SMOKY EYE and its variations.
• Students will practice above look at each other.
CONSULTATION MEETING:
• You will learn how to do the consultation meeting and the importance of building your relationship with your clients in our makeup academy.
• Students will be taught third makeup look.
• Students will practice this look at each other.
MARKETING AND IMPORTANCE OF SOCIAL MEDIA:
• Marketing your hard work is equally important as brushing up your professional skills, once you start marketing yourself in a right way, then your hard work will start rewarding you better.
• Social media Is a powerful tool that influences people at a great extent, Facebook, Twitter, Instagram, YouTube are great platforms which can give you a number of clients and work.
• Kanika will help you to understand the importance of Marketing and Digital Marketing.
• Demo and practical of fourth look.
• The Students will practice at each other.
• Introduction of an advanced level of Base and Intense Eye makeup.
• Practical demo of new Fifth look.
• Practice Hours.
• Introduction to AIRBRUSH MAKEUP.
• Practical demo of Sixth look.
• (Students needs to bring their own Airbrush Makeup kit, if they  want to practice)
• Introduction to BRIDAL MAKEUP and its VARIATIONS.
• Student practice hours.
• Demonstration of the second BRIDAL LOOK and its VARIATIONS.
• Practice classes.
• Whole day practice for upcoming Assessment Day.
• The Assessment and Portfolio Day.
• Certification.
We provide five different advance makeup looks with advanced techniques of Base.
Smoky
Cut Crease Half
Full Cut Crease
Halo Eyes
Graded Eye Look
POINTS TO REMEMBER: Portfolio shoot is not included in this course. Academy will provide few makeup products and some products students have to bring their own.
Be your own makeup artist by learning self makeup by Kanika. We will teach three different makeup looks according to your Face, Skin and eye shape. These include:
One Day look.
Two evening looks.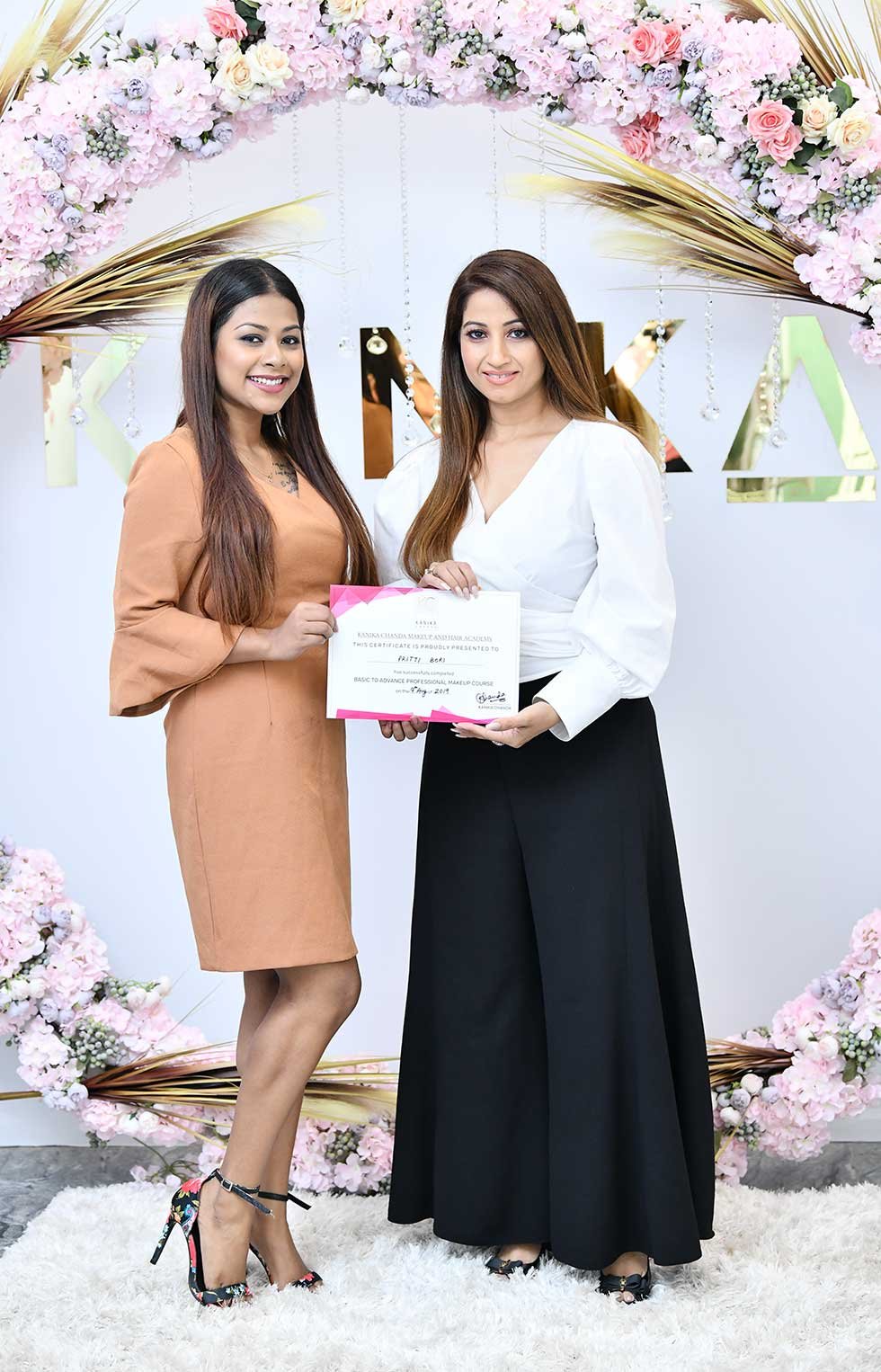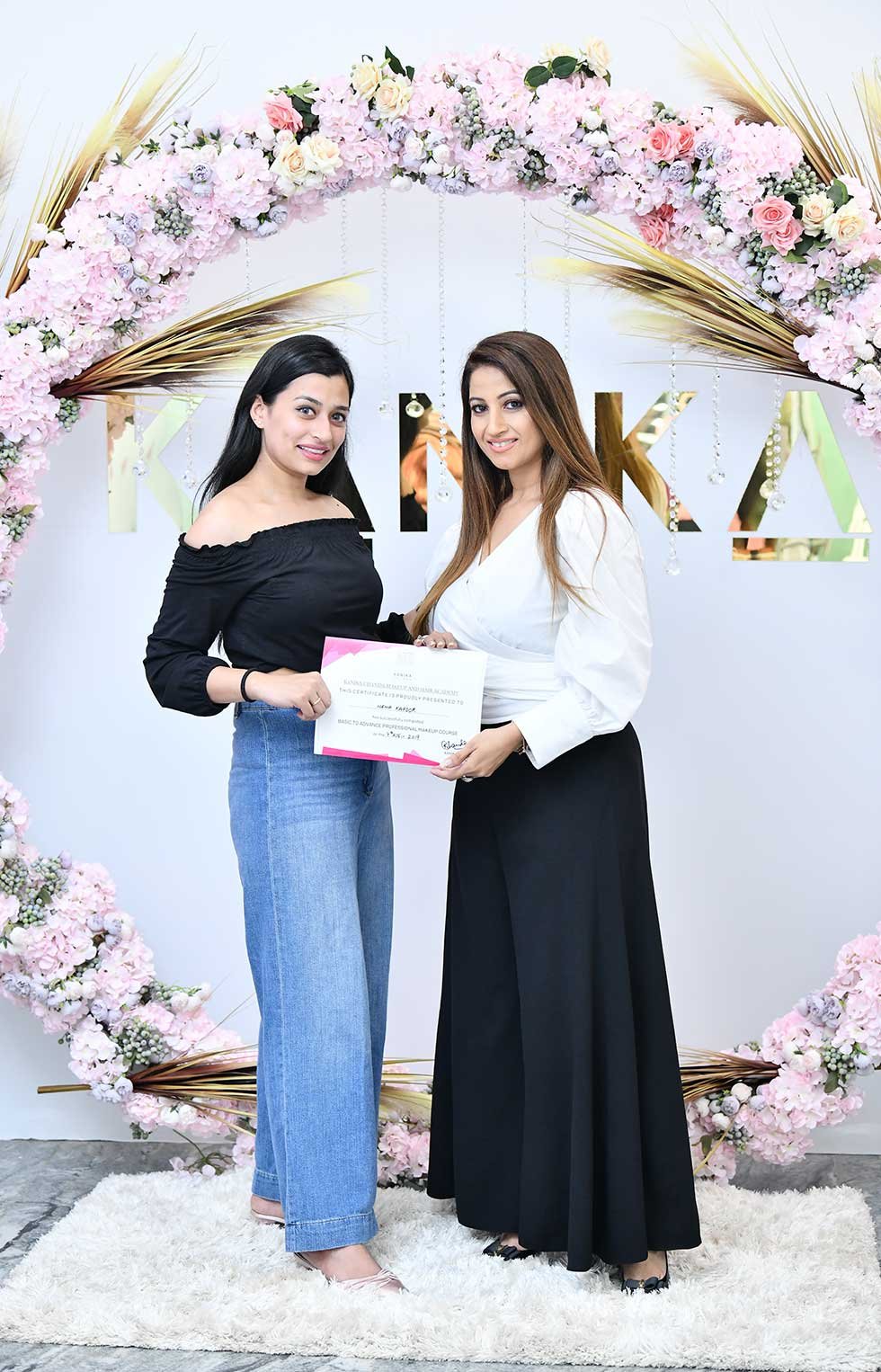 Seats will be only reserved after 50% of course fee, outstanding amount will be charged before the classes begin.
Fees paid in advance is non-refundable and non-transferable.