"Creativity is your best makeup skill, don't be afraid to experiment."- Pat McGrath
Kanika believes in Science and Creativity both. Creativity can be put to your best use if your science is clear. By following your passion and dedication and with the help of Kanika bring out the best in you and make your mark in the blooming Makeup Industry.
In this course, you will be trained in a range of creative applications and techniques to create current looks linking directly to trends.
THE COURSE CONTENT:
• Makeup Artist Hygiene
• Makeup Tools (Brushes/Equipment)
• Different skin types and issues
• Foundation application and selection
• Role of Color Wheel/Concealers
• Contouring and Highlighting
• Powders (loose/pressed)
• Bronzers
• Blusher (powder/cream)
• Eyebrows and Eyes Shapes
• Eyeliners (liquid/gel)
• Eye-shadows (Liquid/Powder/Glitter/Pressed/Cream/Pigment)
• Mascara and its application
• False Lashes Application
• Lipsticks /Lip-liners/Lip gloss
• Secrets of glowing skin
• Hand/Body
DIFFERENT EYE MAKEUP TECHNIQUES:
•  Soft look with neutrals and its variations.
•  Intense Smoky and its variations.
•  Outer Smoky (soft, intense) and its variations.
•  Half cut crease and its variations.
•  Full cut crease (Arabic) and its variations.
•  Halo Cut Crease and its variations.
With these looks you can comfortably create a variety of eye looks for- Party, Engagement, Cocktail, Mehndi, Sagan, Wedding day and night look, Ramp, etc.
CREAM AND LIQUID FOUNDATION:
EYES:
• Pigments
• Matte eye shadows
• Shimmer eye shadows
• Pressed eye shadows
• Liquid Glitters
• Dry Glitters
• Liquid eye shadows
• Cream eye shadows
THEORY CLASS :
KNOWLEDGE OF TOOLS, HYGIENE:
• You will learn about tools, brushes, Equipment used during good makeup.
• Understanding the importance of professional standards of artist hygiene.
STEPS OF MAKEUP:
• Learn makeup application in right steps.
COMPREHENSIVE KNOWLEDGE ABOUT SKIN TYPES:
• Dry Skin
• Oily Skin
• Combination Skin
• Sensitive Skin Types
SKIN ISSUES:
• Open Pores
• Pigmentation
• Pufiness
• Dark Circles
• Rosacea and so on.
FOUNDATION:
• Foundation selection and application according to skin type and undertone, mixing and application techniques based on coverage and texture level.
COLOR CORRECTION:
• Role of a colour wheel and its application in colour correction and camouflaging imperfections with the help of concealers.
FACE SHAPES:
• Learn about different face shapes and role of CONTOURING & HIGHLIGHTING in face structuring.
EYES:
• Students will learn about different eye shapes and placements, and work with the correct eye makeup techniques for different eye shapes.
• Learn all the right makeup technique for ROUND EYES, PROTUDED EYES, WIDE SET EYES, DEEP SET EYES, CLOSE SET EYES, HOODED EYES, ALMOND EYES.
• Learn how to use different types of Eyeliners and Kohls according to eye shapes.
DATE:
18th to 23rd December
NOTE:
• Certificate will be provided.
• Information will be shared on "How to use Social Media?"
• Information will be shared on "How to do Consultation Meeting?"
• Students Have To Bring Their Own Makeup Products To Practice.
• List Will Be Share After Registration.
• Limited Seats Available.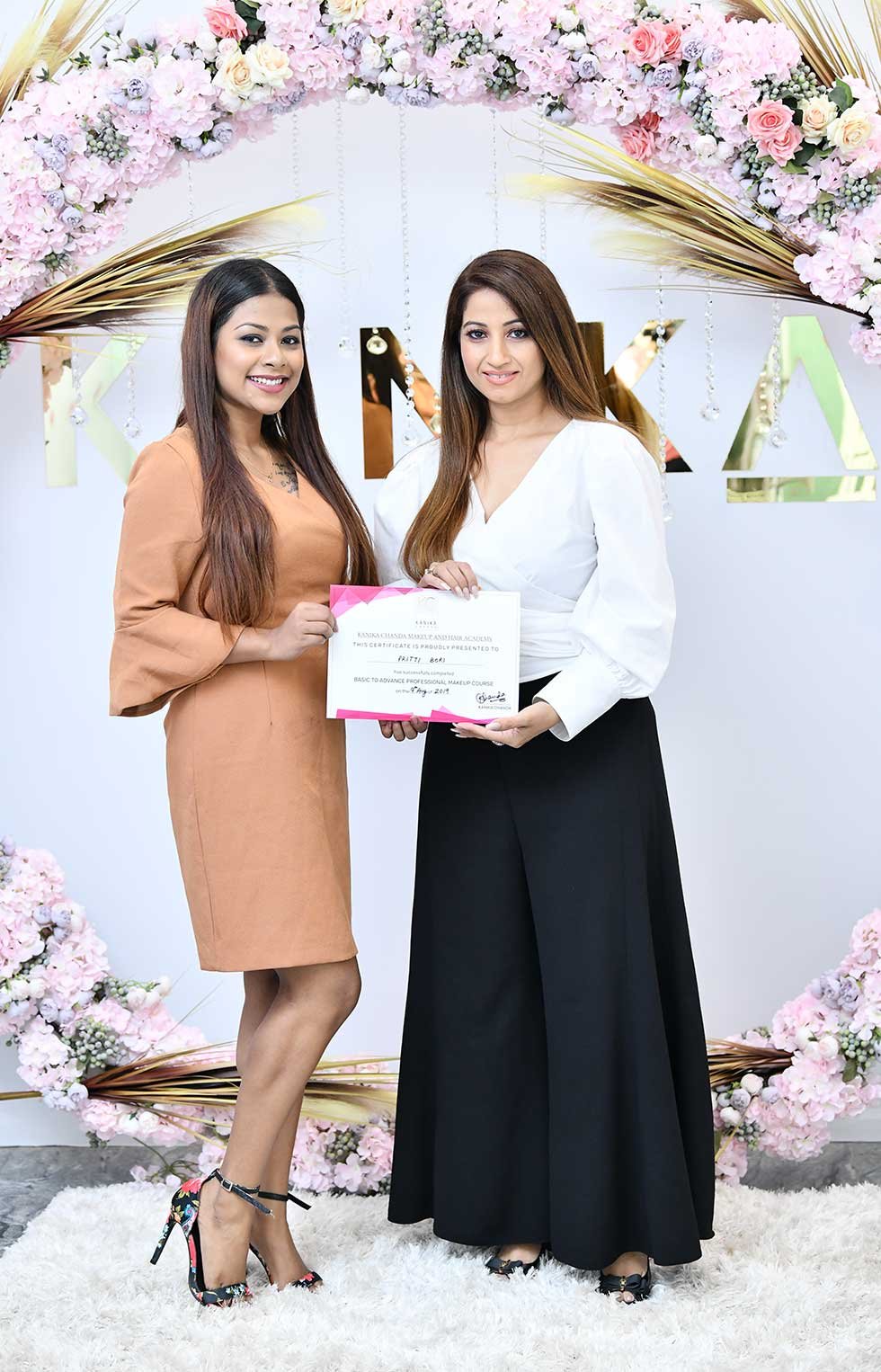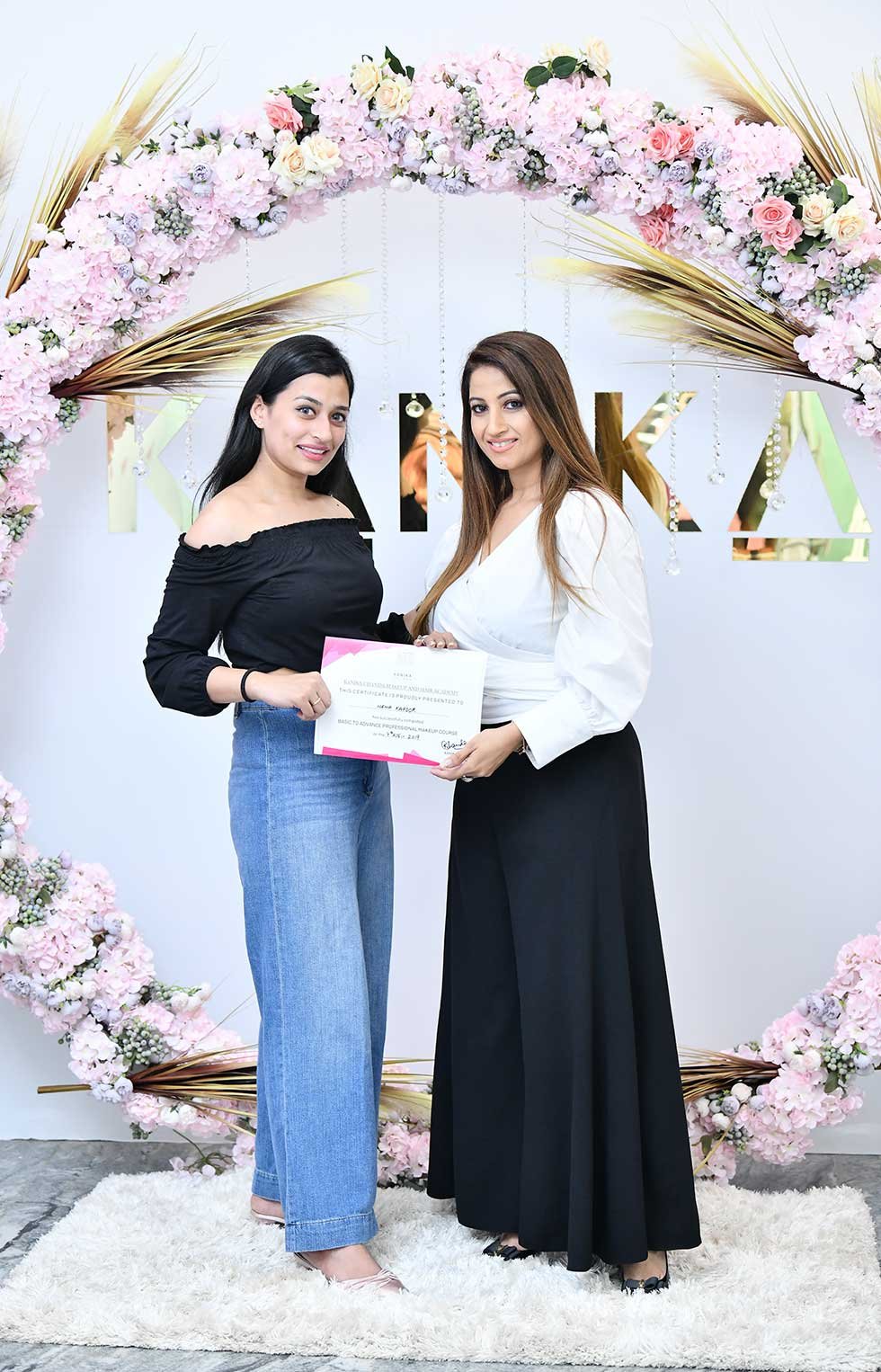 Error: Contact form not found.
Location:
Gurgaon Studio
24, Bougainvilla Marg, DLF Phase 2, Sector 25, Gurugram, Haryana 122002